Study Abroad and Partner Programs
We'll help you follow your path wherever it leads—around the world and back, or maybe to one of our distinguished partner programs.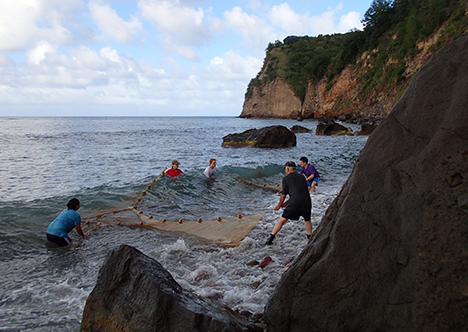 Our signature programs ensure that whether you study away or stay on campus in your junior year, you'll be able to broaden your view and work with talented and influential thinkers from outside the Simon's Rock community. It's a cross-pollination of ideas that strengthens our BA program and makes your time here even more valuable.
In-House Signature Programs
Center for Food Studies
The Center for Food Studies sponsors workshops, lectures, and conferences on food as a cultural force and creates opportunities for internships and other work-study arrangements that focus on our stewardship of a sustainable food system.
Montserrat
Study ecology in the Caribbean for four weeks during winter intersession. Home to a recently active volcano, Montserrat is a fascinating microcosm of the planet—and an amazing place to make discoveries in tropical ecology, endemic and endangered species, conservation biology, and sustainability issues.
Proseminar in Social Science Inquiry
Through intellectual exchanges with social scientists and interdisciplinary scholars, this program prepares students for academic or professional life after Simon's Rock. The program focuses primarily on work in the social sciences or cognate fields of inquiry organized around a particular theme each year, and is open to juniors with relevant expertise and interests.
Sacred Landscapes and Nature Conservation in China and the Tibetan Borderlands
This course introduces students to the physical and cultural diversity of the coastal plains, interior plateaus, and mountain ranges of China. Through readings, talks, personal observation, and service work, students gain an appreciation of the biogeography and culture history of the subtropical Southeast Uplands, the Yellow River Valley, the loess plateau, the North China Plain, and the snow-capped Hengduan mountain region of the Sino-Tibetan borderlands. The course focuses on human-land relationships, nature conservation efforts, and the social geography of sacred sites in rural mountain regions.
Visiting Artists Program
Simon's Rock hosts renowned visual and performing artists from around the world for residencies, workshops, and exhibitions. Take your art to the next level through seminars and master classes offered by these renowned guest artists.
Domestic Signature Programs
Dual Degree Engineering Programs with Columbia or Dartmouth
Study three years at Simon's Rock and two years at either Columbia University's School of Engineering and Applied Science or Dartmouth College. In completing the two degrees, you will have a well-rounded foundation in the critical thinking and problem-solving skills that will make you a better engineer.
Vermont Law School Environmental Policy Program
We partner with Vermont Law School, one of the nation's highest-rated environmental programs, to offer two accelerated bachelor's/master's degree programs. In four years, you'll earn a BA from Simon's Rock and a master in environmental law and policy; or a master of energy regulation and law from Vermont Law.
Bard Center for Environmental Policy
The Bard Center for Environmental Policy provides an interdisciplinary program that emphasizes small classes, faculty advising, professional internships, and research opportunities. Simon's Rock students may participate in the 3+2 programs at the Center, which allow students to complete a BA from Simon's Rock and an MS from Bard in environmental policy or in climate science and policy in five years.
Bard Globalization and International Affairs (BGIA) Program
Spend a semester or summer at BGIA in New York City engaged in the study and practice of human rights, international law, political economy, global public health, ethics, and international affairs. The program merges advanced courses with an internship.
International Center for Photography in New York City
Our photography students can immerse themselves in the art world during junior year in the General Studies Program at the International Center for Photography in New York. ICP is renowned for its faculty, the high level of intellectual and artistic engagement, and its state-of-the-art facilities.
National Theater Institute
Take classes and workshops in acting, directing, playwriting, movement, voice, and costume and scene design at a professional theater. The NTI at the Eugene O'Neill Theater Center in Waterford, Connecticut, provides intensive conservatory-based training to Simon's Rock theater students.
SUNY Upstate Medical University MD Program
Earn a BA from Simon's Rock—in pre-med or another concentration and then matriculate directly into Upstate Medical's MD program. No MCAT required.
SUNY Upstate Medical University Summer Research Fellowship
Juniors interested in biomedical research can participate in the Summer Undergraduate Research Fellowship (SURF) program at the State University of New York (SUNY) Upstate Medical University. SUNY Upstate reserves one SURF opening each year for a qualified Simon's Rock student as well as a slot each year in its PhD program for a Simon's Rock BA graduate with an exceptional academic record.
Foreign Signature Programs
Simon's Rock Scholars Oxford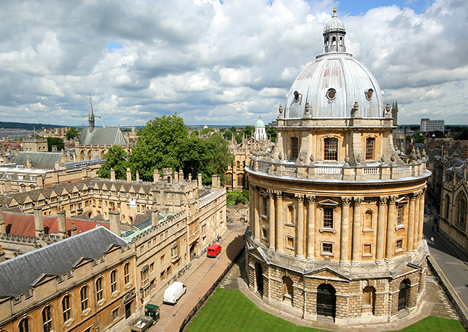 Imagine spending your junior year in residence at Lincoln College, one of the most renowned colleges at Oxford. Study in the disciplines of chemistry, history, literature, mathematics, archeology, and "PPE" (philosophy, politics, and economics). Or attend St. Catherine's College, the newest college within Oxford University, where you can study geography, drama and theater, English literature, and the interdisciplinary Human Sciences Program.
Umbra Institute
The Umbra Institute is located in the central Italian city of Perugia, often called a "big university town in a small Italian city." The Institute offers a broad curriculum of liberal arts, humanities, and social sciences courses. For Psychology students, there is a certificate program in Multicultural Psychology. Also of particular note is the Food & Sustainability Studies Program, ideal for students interested in Environmental Science, Critical Geography, Ecology, Environmental & Sustainability Studies, and Food Studies. All of the Institute's programs offer community-engaged learning, co-curricular field trips, and opportunities for independent research.
University of Manchester–Centre for New Writing
Students who concentrate in Creative Writing have the opportunity to spend a semester or year at the Centre for New Writing at the University of Manchester, UK. Take fiction and poetry workshops and other courses taught by distinguished writers from throughout the United Kingdom and Ireland.
Qingdao University, China
Simon's Rock students taking Chinese or Asian Studies can spend one or two semesters junior year at the College of Chinese Language and Culture at Qingdao University. This intensive program in China attracts students from across the globe.
Spanish Studies Abroad: The Center for Cross-Cultural Study–Spain, Argentina, Cuba, or Puerto Rico
The Center for Cross-Cultural Studies offers programs in Seville or Alicante, Spain, at the University of Cordoba in Argentina, in Havana, Cuba, or in San Juan, Puerto Rico. Students studying Spanish and Latin American Studies at Simon's Rock have the opportunity to spend a summer, semester, or year in residence intensively studying the Spanish language in one of these locations.
East Carolina University Italy Intensives
The Italy Intensives offer a unique study abroad experience in the heart of Tuscany. Students may participate in semester or summer sessions, enrolling in programs in art, ceramics, theater, dance, journalism, public relations, communication, political science, business, economics, allied health sciences, education, psychology, and architecture.
Eugene O'Neill Theater Center
In addition to its domestic program, the National Theater Institute offers a fall semester program at the Moscow Art Theatre School, focusing on the Stanislavsky System, the Chekhov Technique, and movement classes, which are complemented with voice, design, Russian language, and Russian theater history classes.
Leave to Study Away
In addition to the Signature Programs listed above, students can also receive credit for participating in semester- or year-long programs offered by other colleges and universities. Options have included the International Partners for Service Learning, the School for Field Studies, Living Routes, Where There Be Dragons, and Global Routes. Students can explore options during the Sophomore Planning Process.
Simon's Rock juniors have studied at the Sorbonne in Paris, University of St. Andrews in Scotland, Pondicherry University in India, Universidad de Chile, Queen Mary University in London, University of Edinburgh in Scotland, University of Puerto Rico, Ruprecht-Karls-Universitat Heidelberg in Germany, Chinese University of Hong Kong, University of Otago in New Zealand, Sophia University in Japan, the Prague Center for Further Education Film School in Czech Republic, the School for Field Studies in Kenya, and Trinity College in Ireland, and the London School of Economics.
Students have also enrolled as visiting students for a semester of a year at institutions in the United States: Bryn Mawr, Cornell, Smith, Mills College, Boston University, the University of Maine at Orono and the New School for Social Research.