Coming to college early definitely isn't a decision for everybody, but if there's kind of like a little inkling in your heart then maybe it's time to check it out.
I can just walk in and casually have a meeting with somebody, like my professor Bernard Rodgers, who's actually my academic advisor too, who has written books on Philip Roth and I have access to that on a daily basis. That is one of the most awesome things about Simon's Rock, and I don't think that you could get that anywhere else.
My thesis helped me learn quite a bit along the way with regard to linguistics, politics and culture.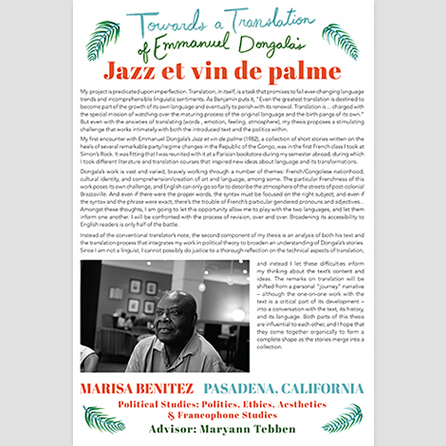 Marisa's Thesis Poster: Jazz et Vin de Palme
Marisa's senior thesis is translating a collection of short stories from French into English.
On Receiving Her Fulbright
When I first applied, it seemed like a lofty stretch, but why not? That's exactly what my advisors were asking, too. They had complete confidence in me. Now I get to be fully engaged in a totally different community. It's kind of surreal. I'm only 19, but I'm ready. This would never have been a possibility anywhere else.
Teaching in Belgium should be the perfect backdrop for my research interests and for doing what I love: teaching. I'm hoping later to continue studying at graduate school, but the Fulbright program gives me a bit of buffer time to parse out my research interests, and hopefully gain some experience around them!
Learn more about Marisa's Fulbright experience.