The Active Community Engagement (ACE) requirement is a framework for learning how to balance academic success with physical, emotional, and social well-being. ACE encourages students to become active participants in the life of their communities.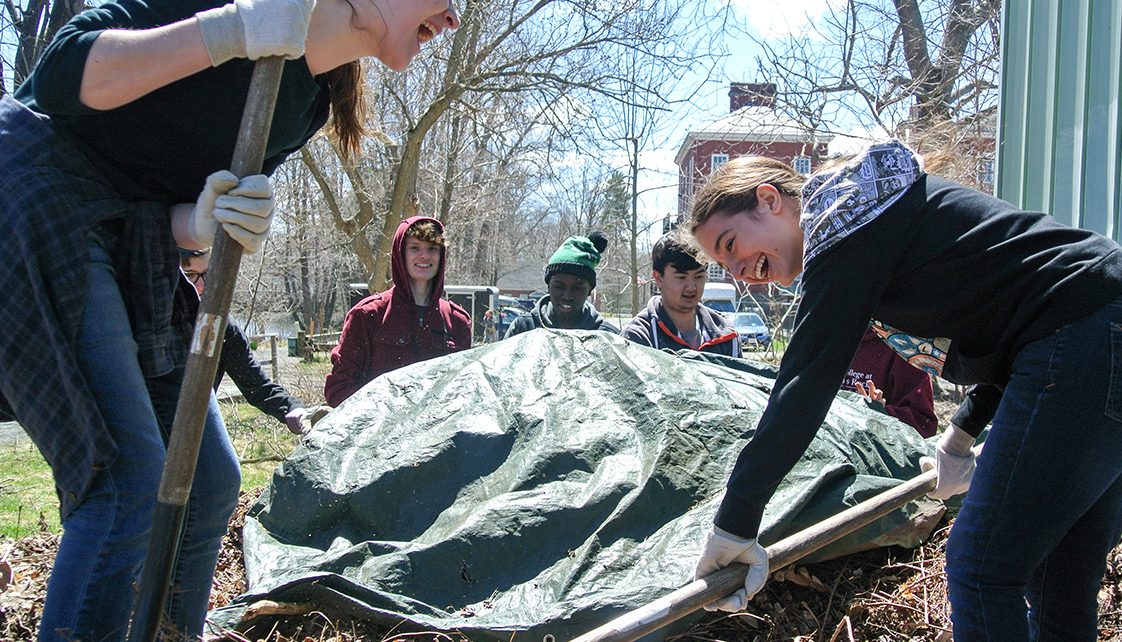 Healthy communities, healthy lives
ACE is a tri-part extracurricular program that strives to enhance the Simon's Rock experience by giving students credit for participating in a dynamic and well-rounded environment outside the classroom as well as within it.
The ACE program is designed to facilitate engagement across three separate categories, in the belief that students who lead well-rounded, physically active lives are healthier and more satisfied than those that do not. The categories are as follows: Athletics and Recreation, Health and Wellness, and Participation and Service. Students are required to complete 30 total credits and meet the minimum hours of each category to earn the associate of arts degree.
ACE Requirement
| ACE Category | Minimum Hours | Total Hours |
| --- | --- | --- |
| Health and Wellness | 4 | |
| Participation and Services | 4 | |
| Athletic and Recreation | 10 | |
| Total | 18 | 30 |
Athletics and Recreation
Participation on a team, athletics class, dance class, or other school/student sponsored physical activity can meet ACE Athletics and Recreation requirements. All ACE athletics programs are inclusive, open to all regardless of experience.
Health And Wellness
Programs in the Health and Wellness area will provide students with resources and tools to make more informed decisions regarding public and personal health, both physical and emotional. Some lectures, discussions, and activities are offered each week (such as stress management, substance use and abuse and healthy relationship advice) and others respond to specific situations. Health and Wellness programs will explore and educate the campus community on issues of health and medical diversity.
Participation and Service
The Participation and Service segment of the ACE program can be fulfilled through two avenues. The first is through independent or group volunteer service which does not fulfill an academic or job requirement. The second is through attending lectures and events available on campus.
Off Campus Credits
Students with community service hours not set up through the college will still be eligible to receive ACE credit for the hours they have worked. In order to receive credit for hours worked this way, students must notify the ACE Coordinator in advance of their intention to complete their hours in this manner, and submit their supervisor's contact information on organization letterhead. After completion of their service they must also submit to the Coordinator an hourly timesheet signed by their organization's supervisor.
Credit Values and Making Up Credits
In general, one credit is assigned for one hour of time committed to participation in an activity (excluding travel time), with two exceptions: student coordinators for ACE receive an extra hour of credit for that work, and active campus and off-campus service earns two credits per hour of service.
Creating an ACE Program
The ACE Mission
Our mission is to work together as students, faculty, and staff to ensure that everyone on campus has ample opportunity to engage as a member of the school, the town, and the world at large. The ACE coordinators ensures that the ACE programs are varied and plentiful. We are driven by the idea that every individual has the power and the influence to affect society. By encouraging people to actively involve themselves in their social as well as academic education, the ACE program enables them to expand their worldview and prepare them for lives of contribution in the Simon's Rock tradition.
The ACE Board facilitates communication and collaboration on ACE projects, continually refines the guidelines of the program, and assists members of their respective departments with the implementation of effective and accessible programming.
Requests for specific resources or questions not answered on this site may be directed to the Coordinator of the program at aceadmin@simons-rock.edu.
ACE Contacts
If you have questions about starting an ACE program of your own, or need extra resources to make it successful, please email the appropriate area coordinator with your questions. If you are unsure who to email, please direct your questions to the Dean of Students at tcameron@simons-rock.edu.